Are you a household, individual or business? It's time to measure your food waste! We measure waste to see how to reduce it.
How to easily reduce food waste?
How many portions of food do we throw away when there are others in need?
It's a shame. It's a shame!

We cook as much as we need, as much as we will consume.

We shop based on our needs. We avoid unnecessary shopping.

Good food storage and preservation practices. We organize our refrigerator and cupboards properly to avoid throwing away spoiled or expired food.

We donate leftover food. We make sure it is in good condition and offer it to social grocery stores.

We offer to animals/pets. Our surplus food if it is not suitable for human consumption but is in good condition can be offered for animal consumption.

Food Service Areas – Food not consumed by the client may be provided to the client in a package or given to a licensed manager.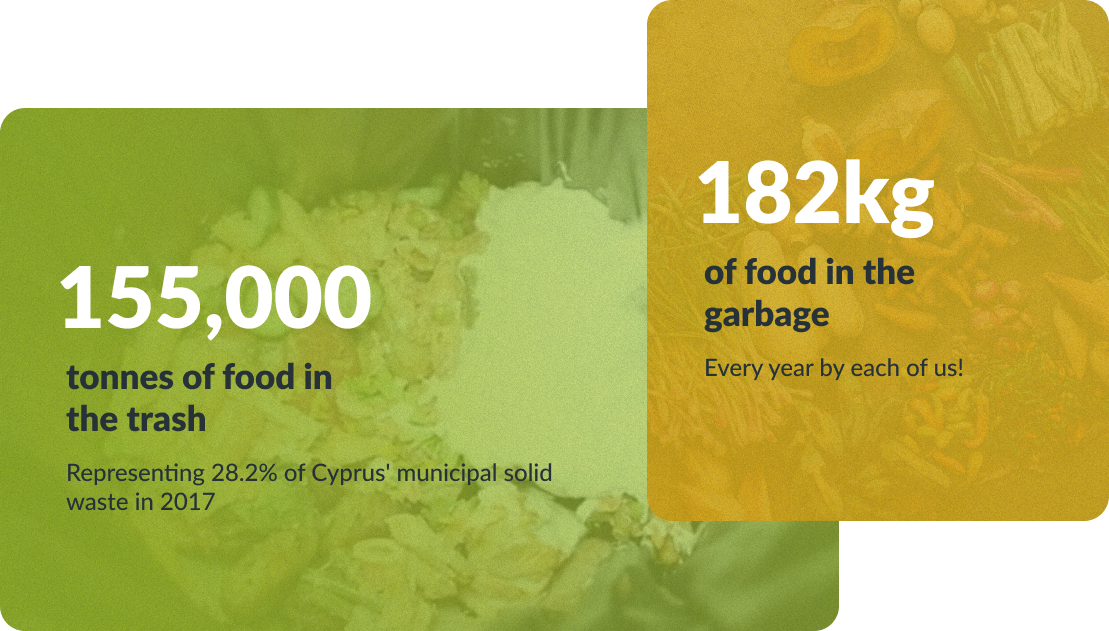 Am I shopping, cooking, storing right?
Learn everything through our audiovisual media. Videos that will answer all your questions.
What is the waste calculator?
I am the Wastage Calculator.
The calculation I do gives indicative results that help us to become aware and take action to reduce food waste. Each time, count the amount you throw away for the last 24 hours based on the food list we give you. The list includes the most important foods we usually consume.

Count the the cost to your pocket
The measurement is translated into euros. It calculates how many euros you could save per day and how many euros in a year

It measures the social costs
The measurement is based on the calories of the food you waste and then converted into food portions per day and the number of people you could feed in a year

Measures the Environmental Cost
The measurement translates into the number of mobile phones you could charge on a given day and the number of cars that could be taken off the road in a year

Select the foods you have thrown away in the last 24 hours. Enter in the Waste Calculator the quantities of food you throw away (vegetables, fruit, meat, bread, etc.)

We do the calculation of the …wastage

You see the footprint of your waste. So you will know and think differently.

We will remind you in your email to take the measurement again at specific intervals.